Driving the Wires of Automotive
MIPI specifications in automotive and the MIPI A-PHY solution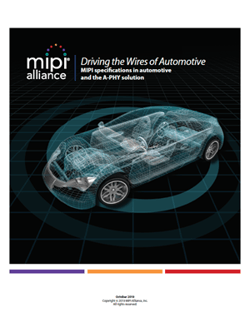 The auto industry is being transformed by several global trends, including a growing embrace of electric vehicles, increasing vehicle automation, tighter safety and fuel economy standards, and new ownership models such as car sharing.
These are all generally requiring that cars become smarter, connected and more automated, which means additional electronics. As vehicles progress along the Society of Automotive Engineers (SAE) levels of driving automation, they will be enabled by increasingly sophisticated sensor electronics and processing, brought together by high-speed interconnects.
Scope of the white paper
This paper is designed to provide an understanding of MIPI specifications for wired connectivity interfaces in automotive today, heavily leveraged from MIPI's influence over the mobile smartphone ecosystems, and share how new enhancements and specifications are being developed with automotive applications in mind. In particular, it will provide an in-depth look at the upcoming MIPI A-PHY physical layer specification, which will provide a solution for the "long-reach, high-speed challenge" of connecting the highest speed electronic components throughout a vehicle. MIPI initiated development of A-PHY in 2017 to drive the convergence of multiple proprietary long-reach interfaces in automotive toward one standard with a strong roadmap vision for the future.
Get the white paper
To download the white paper, please submit the form on this page. You'll receive a download link on the response page.
---
Learn more about MIPI Alliance
Visit the MIPI Alliance website to learn more about MIPI membership and to see MIPI's entire portfolio of specifications.