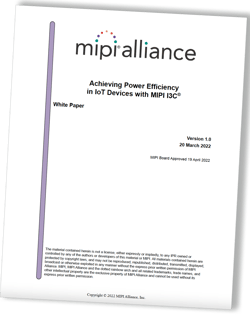 Efficient power operation and energy optimization are primary objectives for products intended for many IoT (Internet of Things) markets.
This white paper, Achieving Power Efficiency in IoT Devices with MIPI I3C®, describes how IoT product architects and product designers can use a selected set of MIPI I3C/I3C Basic℠ features to achieve their design's goals.
The paper includes a brief overview of market trends, an introduction to the I3C protocol and an in-depth examination of selected I3C technical features that are most relevant to power efficiency in IoT devices. Those technical features include:
Electrical characteristics

Routing functions

Bus activity state management

In-Band Interrupts (IBI)

Hot-Join (HJ), and

Device-to-Device tunneling (D2DT)
---
Read the White Paper
To download the white paper, please submit the form on this page. You'll receive a download link on the response page.
---
Learn More About MIPI Alliance
Visit the MIPI Alliance website to learn more about MIPI membership and to see MIPI Alliance's entire portfolio of specifications.