An Introductory Guide to MIPI Automotive SerDes Solutions (MASS)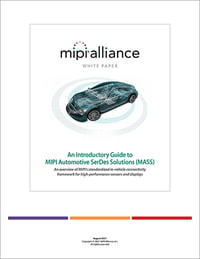 An overview of MIPI's standardized in-vehicle connectivity framework for high-performance sensors and displays
Automotive technology is advancing faster than ever, and electronic components have never been more central to the design and success of new vehicles. Advanced driver-assistance systems (ADAS) and rapidly evolving in-vehicle infotainment (IVI) platforms are the stars of many new models, while autonomous driving systems (ADS) are a major focus of development.
These innovations require more cameras, sensors, displays and computing resources from a growing ecosystem of suppliers. The data interfaces linking components together play an essential role in safety and security, which are core requirements of the new onboard systems. Standardization and its promise of interoperability are essential for automotive innovation to flourish.
This introductory guide explains how MIPI Alliance is addressing these market requirements with MIPI Automotive SerDes Solutions (MASS), an end-to-end, full stack of connectivity solutions for the growing number of cameras, sensors and displays that enable automotive applications. It outlines how these solutions, with unprecedented functional safety and security built in at the protocol level, will help automakers integrate new and emerging safety features using the latest camera, lidar and radar systems. It also describes how MASS supports the integration of multiple high-resolution instrumentation, control and entertainment displays.
In addition, the white paper includes a detailed technical overview of the MASS framework, explaining how the four principal components of MASS (physical layer interface, higher-layer protocols, functional safety enablers and security enablers) combine to create an end-to-end automotive connectivity framework. Example use cases for MASS are also provided.
Read the White Paper
To download the white paper, please submit the form on this page. You'll receive a download link on the response page.
---
Learn More About MIPI Alliance
Visit the MIPI Alliance website to learn more about MIPI membership and to see MIPI Alliance's entire portfolio of specifications.