A 5G Readiness Assessment of MIPI Specifications
An overview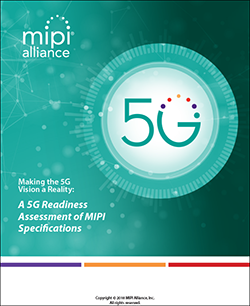 Today, virtually every 4G device uses MIPI interfaces. This white paper describes how existing MIPI specifications are capable of supporting the first generation of 5G smartphones, as well as additional, emerging 5G mobile platforms, including connected/autonomous/semi-autonomous vehicles and Internet of Things (IoT) devices.
This 5G readiness is based on two factors:
The MIPI specifications discussed in this paper meet all of the industry's bandwidth, performance and feature requirements through 2021 and beyond.
Several major vendors are already using these MIPI specifications for their first-generation 5G smartphones.
One goal of this paper is to foster industry discussion about how existing MIPI specifications can be enhanced, and new ones developed, to enable the 5G devices, applications and use cases that will emerge over the next decade. To learn more about MIPI in 5G and to become involved, visit mipi.org.
Scope of the white paper
This document focuses on evaluating each relevant MIPI specification from the perspective of applications in the 5G mobile platforms, such as 5G smartphones. It examines the typical 5G mobile system architecture; evaluates key interface attributes such as performance, latency and power; and analyzes each MIPI specification's general readiness to deploy in 5G mobile platforms.
This paper also discusses emerging 5G use cases. However, 5G's implications for some mobile-influenced areas, such as automotive, wearables and IoT devices, are not completely known at this time. They will be evaluated and addressed in future MIPI papers. Please refer to Section 5 References for more information about 5G network technologies, emerging use case examples and industry trends.
Get the white paper
To download the white paper, please submit the form on this page. You'll receive a download link on the response page.
---
Learn more about MIPI Alliance
Visit the MIPI Alliance website to learn more about MIPI membership and to see MIPI's entire portfolio of specifications.